Join us at the CogX Festival 2023 at the O2, London! Find out more here.
Discover
Using an ensemble of state-of-the-art machine learning models, CogX learns and adapts to your interests and preferences, generating a feed of curated content that makes you more effective every day.
Focus
Let us know what you're focussed on, and we'll generate a special feed of content dedicated to your focus topics. No distractions. No noise.
Connect
Find others with similar interests, forge new connections and expand your professional network.
Expand
Grow your audience of engaged professionals, build a community, and monetise your thought leadership content on CogX.
Curated for quality
Our editorial team is on the cutting-edge of the topics that matter to you. The same team that is responsible for selecting speakers and content for the CogX Festival is also responsible for curating the content on the CogX App.
Our goal is to support a broad range of opinions on every topic, while ensuring that all the content on the platform is of the highest quality and free from noise and distractions.
Swipe your way through a personalised feed of AI-created snippets, and dive into the full episode at any time when something catches your attention.
CogX adds simple tags, which not only give you a quick sense of the focus of the item you are viewing, but also work like an instant search to see all other fresh content on the platform with matching (or closely-related) tags.
Select the topics you want to focus on and CogX will use that information to help refine your recommendations. The more you use the app, and the more you explore, the better those recommendations will become.
You will also find 'Recommended' lists from other users' profiles if you are looking for fresh inspiration.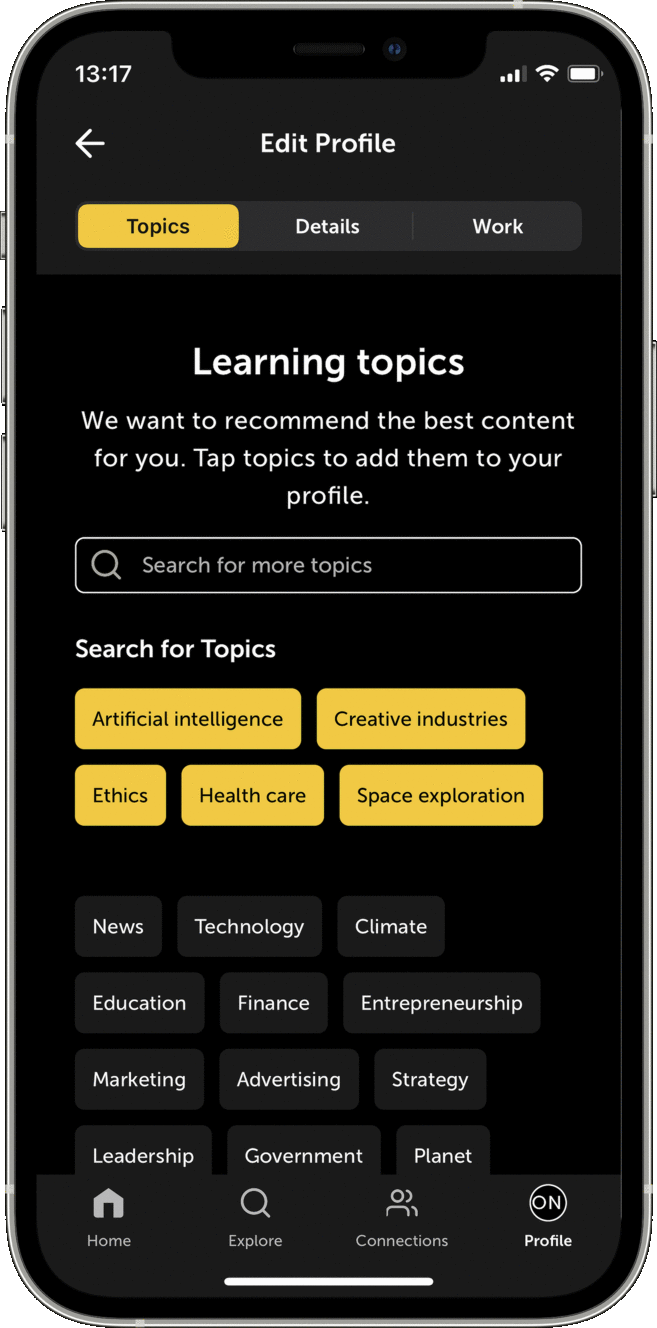 Build a network
CogX has a well-established network of thought leaders and industry experts, as well as researchers, students and thousands of other people interested in extending their professional knowledge.
See who else on the CogX platform is listening to the same content as you and forge new connections to build your personal network. Once others accept connection requests, you can also send direct messages.
" I like the large amounts of content there seem to be and the diversity of the podcasts on here! "
Emily Harding
Imperial College Research Fellow - Imperial College London
" The wide variety of topics and content. It's different and keeps connected throughout the year beyond CogX conference "
Emily Harding
Imperial College Research Fellow - Imperial College London
" The broad range of podcast episodes underneath a particular topic e.g. AI - really helps target interests in a helpful way. "
Emily Harding
Imperial College Research Fellow - Imperial College London
" The diversity of expert thought leaders and opinions. Consolidates other feeds and shows things I didn't know existed! "
Emily Harding
Imperial College Research Fellow - Imperial College London